Corporate Identity
BAZ BIOMEDIC Corporate Identity (CI)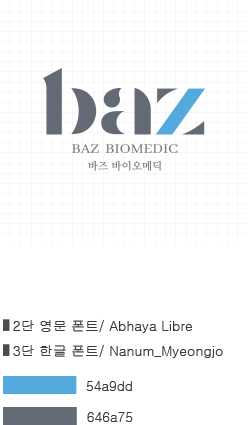 The logo of BAZ BIOMEDIC is defined with concepts of

"Trust"

and

"Pure"

.
Using Libre font type, all letters are composed stably in a square boundary with the same width and length, and the letters were further simplified geometrically.
The convex part of 'b' and the part in front of 'a' are smoothly trimmed with a water droplet motif, and each area of 'Z' is treated with stripes of different colors so that they can be distinguished.
'Z' is finished with the

cleanest

sky blue stripes.
The color code 646a75, which finishes the entire logo, is a bluish gray, a reliable color that signifies

trust

.